Masters of Yiddish and Greco-Turkish Music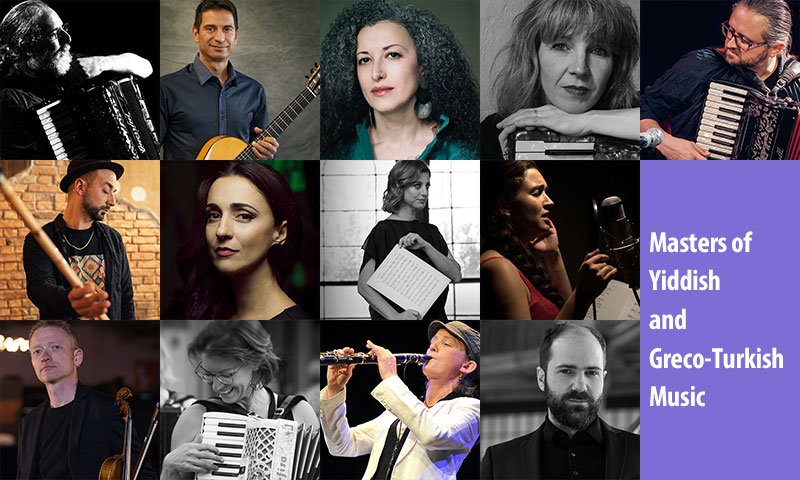 Wed, Jul 19 '23 08:00 PM
Musikschule "Johann Nepomuk Hummel"
Yiddish and Greco-Turkish musical brilliance by the faculty of the first three YSW23 workshops
Every year, YSW has a special topic. In 2023, we continue our exploration of the connections between Yiddish and Greco-Turkish music that came about during the late Ottoman Empire and continue until today. In this concert, the masterful artists who are leading this week's workshops introduce themselves with their favorite songs and tunes. An opportunity to get to experience each artist individually, and to dive right into the spirit of YSW23.

Line-up:
Alan Bern (US/D) - piano, accordion
Szilvia Csaranko (D) - accordion
Susi Evans (GB/D) - clarinet
Benjy Fox-Rosen (AT/US) - double bass
Johannes Gräßer (D) - violin
Tayfun Guttstadt (D) - ney, voice, guitar
Vassilis Ketentzoglou (GR) - guitar
Sveta Kundish (IL/UA/D) - voice
Sasha Lurje (LV/D) - voice
Eftychia Mitritsa (GR) - voice
Sanne Möricke (D) - accordion
Ilya Shneyveys (LV/US) - various instruments Dilek Türkan (TR/D) - voice
Location: Musikschule "Johann Nepomuk Hummel", Karl-Liebknecht-Str. 1, 99423 Weimar
Contact: , +49(0)15776463340
No registration possible
This event is over.