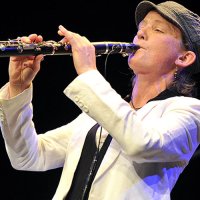 Susi Evans (GB/D; clarinet)

Susi is a founding member of the award-winning klezmer & Balkan band She'Koyokh and the London Klezmer Quartet with whom she has toured Europe, New Zealand, Brazil and Australia. She has performed as a soloist with the BBC Scottish Symphony Orchestra, the Aurora Orchestra and the Orchestra of the Swan.
 
In 2022 Susi performed an arrangement of Yiddish songs on Holocaust Memorial Day in the German Parliament. In 2020 her duo, Susi Evans & Szilvia Csaranko, recorded its first CD Klezmer from the New World and published the Klezmer Playbook, as well as founding the KlezmerPlaybook CLUB offering regular online workshops to people all over the world.



Susi attended the Purcell School of Music and after graduating from the Royal Academy of Music continued her studies in Istanbul with Selim Sesler and at the Plovdiv Academy of Music in Bulgaria where she studied clarinet, accordion and gaida (Bulgarian bagpipes). She is a Head of Faculty at Klezfest London and has taught and performed at all the major international klezmer festivals.
https://www.youtube.com/watch?v=BpwXRCyb0xQ&list=PLDmi_XUkPa0uhYX36oSEtlDKOMdw2yLEI
https://www.youtube.com/watch?v=YWu6-RXzb1s
https://www.youtube.com/watch?v=ZP3JW2hUgH0

Diverse Videos auch auf diesem YouTube-Kanal:
https://www.youtube.com/channel/UCYAAscZpwQrcFIeDi2iTTZw
Photo: Christopher Giese