What is Yiddish Summer Weimar?

Yiddish Summer Weimar (YSW) began life as a weekend workshop in 1999. Today it spans a whole month and has become one of the world's leading summer programs for the study, creation and presentation of traditional and contemporary Yiddish culture.

Following the vision of founding artistic director Alan Bern, YSW is a uniquely creative, intercultural community in which people of all ages and backgrounds are welcome. The week-long workshops that make up the backbone of YSW are taught by international, cutting-edge artists and scholars in an atmosphere that encourages learning, discussion, creativity, individuality and community.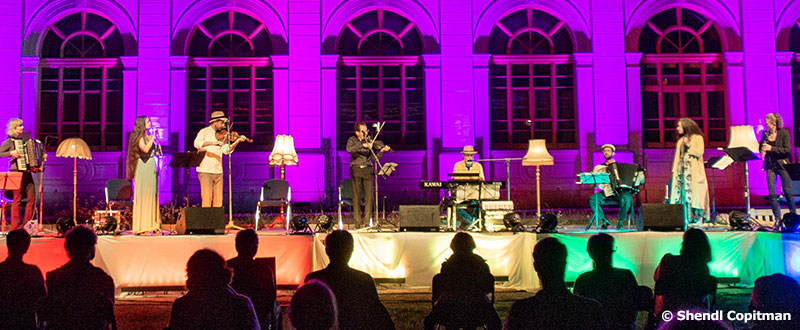 During the special Festival Week, nightly concerts feature the best of today's artists performing Yiddish and other East European music, while the daytime program offers hands-on mini-workshops in Yiddish language, music, dance, cooking and more for all ages and levels of experience, as well as a film series and other public events.

Many of today's most successful and innovative Yiddish musicians have roots in YSW, including The Other Europeans, Brave Old World, Daniel Kahn, Alpen Klezmer, Voices of Ashkenaz, forshpil, Trio Figelin, Kol Ishe and many more.

We invite you to explore our history and philosophy through the links on this page, and hope to meet you this summer in Weimar!
History

The festival that is known today as Yiddish Summer Weimar has its origins in an invitation by Georg Mackrodt (✝2009) to Alan Bern and Brave Old World to conduct a workshop on Yiddish music in Weimar as part of the 1998 European Summer Academy.

The success of this workshop led Dr. Julia Draganovic, director of the Kulturbüro LaRete, to develop a festival with Alan Bern as Artistic Director, the "Weimar Klezmer Weeks." Dr. Draganovic managed the festival until 2002, when her role was taken over by Stephanie Erben, operating under the sponsorship of the Kuratorium Schloß Ettersburg e.V.. In 2006, the non-profit organization Other Music Academy e.V. was founded with Alan Bern as chair, Stephanie Erben as vice-chair and Katrin Petlusch as treasurer. The Weimar Klezmer Weeks had by then evolved into one of the most internationally respected summer institutes for Yiddish music and culture. In view of its expanded scope and new independence as a project of Other Music Academy e.V., the festival was renamed Yiddish Summer Weimar (YSW).

Many things made possible the rapid evolution of the festival over these years: the passionate commitment of participants and teachers, the enthusiastic reactions of Weimar audiences, the loyal support of the city and other project partners, the untiring help of volunteers, the financial and moral support of regional, national, European and international foundations, public sector institutions and private sponsors, the very positive attention of the press and other media and the ceaseless work of the management team.

In recognition of his leadership of YSW, Alan Bern was awarded the Order of Merit of the Federal Republic of Germany (Bundesverdienstorden) in 2022, the Thuringia Order of Merit in 2017 and the Weimar Prize in 2016. In recent years, YSW has increasingly focused on creating new Yiddish culture projects with young people and renowned artists. International youth projects include The Kadya Choir (2017-18) and the 2018 Shimon Peres Prize-winning Caravan Orchestra and Choir (2017 - present), and artists such as Joshua Waletzky, Daniel Kahn, Joshua Dolgin, Polina Shepherd, Sveta Kundish, Sasha Lurje, and many others have created new works in the framework of YSW. In 2019, Alan Bern, Yuriy Vedenyapin and Miriam Camerini collaborated to create Di megile fun Vaymar, a new music theater work based on Purimship and works by Itzik Manger and Goethe. In 2022, Alan Bern and Diana Matut collaborated to create Glikl-oratorye, an oratorio based on the diaries of Glikl of Hameln. In 2020, YSW launched OMAworks (link), an in-house agency with the mission to bring these and other YSW creative productions to wider audiences.

YSW is guided by a four-part mission: to research, teach, create and present traditional and new Yiddish culture in an intercultural context.

(For more details about the the history of YSW, including photos, posters, and more, please see the archive).
Our Philosophy


"I really appreciate the holistic approach, bringing body and mind together."
"Self-awareness and individual expression are taught and strongly encouraged."
"I think the impact is too great to be put into words." (Voices of participants)

Why Yiddish Summer Weimar is different:
1. A learning community, not a shopping mall
Many things contribute to the special character of Yiddish Summer Weimar. We start with phenomenal teachers and artists. Then, each year a special topic is chosen that ties together all of the workshops, concerts, dance evenings, jam sessions, symposia and other events. We interpret traditions as expressions of intercultural processes, not as frozen objects, so our working methods also emphasize processes and questions rather than answers.

Cultures have many forms of expression, such as instrumental music, vocal music, dance, and more. Rather than follow the "shopping mall" concept, in which a large number of participants picks and chooses from parallel classes and may never even meet one another, we consciously choose to make time and space for one subject at a time in smaller workshops that last up to a week. The small number of teachers and participants and a single focus allow us to form a learning community and contributes to the famous intensity of the Weimar workshop experience.

Equally important is an approach that integrates many kinds of learning – intuitive, kinetic, emotional, intellectual, practical and theoretical. Almost all participants discover that they are strong in some of these and less developed in others, and the workshop challenges them to grow in ways that go far beyond the topics of the festival. Many participants experience changes that continue long after they've returned home.

Our participants and faculty often come from more than 20 countries and speak many languages, so communication is itself a challenge and develops on many verbal and non-verbal levels. Hard work and digesting new information during the day is balanced by very free jam sessions and dances in the cafés of Weimar at night, through which social relationships and networks grow, bringing the festival into people's real lives. Finally, concerts and other public events are not performance tests, but opportunities to bring a week of intensive work to a higher stage of development and share with a larger audience.

Yiddish Summer Weimar is a music and culture festival, yes, but more than that it's a chance to challenge boundaries, explore connections, and grow through encounters with others and with ourselves.


Why Yiddish Summer Weimar is different:
2. First the territory, then the map
Alfred Korzybski (1879-1950), the founder of General Semantics, remarked: "The map is not the territory." That means, don't confuse representations of things with the things themselves. In the case of music, the representation is the written score and the thing it represents is sound - music. However, most of us in the West learn music by first learning to read written notes. By doing so, we deeply distance ourselves from the territory of music itself. In Yiddish Summer Weimar and Winter Edition, our approach is always to start with music as sound - called learning music "by ear." How strange that there's a special term for that! We don't learn to paint "by eye" or learn to dance "by leg."

When you learn music "by ear" you learn not only one melody or harmony or piece, you learn a mode of perception that is perfectly matched to object of music itself. For this reason, we spend a lot of time learning music directly from people, the way that much music was traditionally transmitted from person to person and generation to generation. Traditional or "folk" music is perfectly adapted to this process - if it weren't, people wouldn't be able to learn it quickly and remember it. So learning "folk" music by ear is one way of directly exploring the territory of music, instead of the map. Another way is improvisation. When you improvise, you attend to your own musical impulses and act on them directly. There's no intermediate step of translating sound impulses into a system of visual representation (written notes) and then translating back again into sound. To be clear: written music is useful the way a map is, and we work with written music in Yiddish Summer Weimar, too. But only after we understand music as sound. First the territory, then the map.

Dr. Alan Bern
Honors & Recognition
Dr. Alan Bern to be awarded the Order of Merit of the Federal Republic of Germany
>> https://ysw2022.yiddishsummer.eu/files/press_release_order_of_merit.pdf

2019: German Federal Cultural Foundation, General Project Funding
Grant to Yiddish Summer Weimar in the amount of 219,000 €.
>> https://www.kulturstiftung-des-bundes.de/en/programmes_projects/music_and_sound/detail/the_weimar_republic_of_yiddishland.html

2018: Awarding of the Shimon Peres Prize of the German-Israeli Future Forum by Federal Foreign Minister Heiko Maas to the project "Caravan Orchestra"
>> https://www.dizf.de/deutsch/shimon-peres-preis/preisverleihung/index.html
2017: State of Thuringia Service Medal awarded to Alan Bern

2016: Weimar Prize awarded to Alan Bern

2016: German Federal Cultural Foundation, General Project Funding
Grant to Yiddish Summer Weimar 2016 in the amount of 210,000 €.
>> http://www.kulturstiftung-des-bundes.de/cms/en/projekte/musik_und_klang/bobe_mayses.html

2013-2015: Support from the "New States" Fund of the German Federal Cultural Foundation, for the development of the Other Music Academy
>> http://www.kulturstiftung-des-bundes.de/cms/de/mediathek/audio_und_video/interview_alan_bern_other_music_academy.html

2006-16: Atran Foundation (USA)
Project support for Yiddish Summer Weimar and Winter Edition.

2014: TFF Rudolstadt and MDR Figaro
Ruth world music prize for the project Alpen Klezmer (Andrea Pancur and Ilya Shneyveys)

2010: European Union
For "The Other Europeans," one of 20 "best practices" projects in Europe "in favour of the Roma community"
>> http://www.roma-conference.eu/web/roma/projects

2009/10: Compass
To Yiddish Summer Weimar, one of 36 "most innovative, creative, effective and sustainable initiatives in support of Jewish life in Europe"
>>http://www.compasseurope.org/

2009: Ehrenruth
Lifetime Achievement Award to Alan Bern & Brave Old World
>> http://www.weltmusikpreis.de/2009/ehren_1.html

2008: Deutscher Musikrat (German Music Council)
1st prize to other music e.V. in a national competition for intercultural, intergenerational music projects.

2005-09: Montreal Jewish Community/KlezKanada Foundation
Project support for Yiddish Summer Weimar and Winter Edition

2005-08: Forward Association
Project support for Yiddish Summer Weimar and Winter Edition.

European Union Culture 2000 Project Grant
For "The Other Europeans," in cooperation with KlezMore (Vienna) & the Jewish Cultural Festival in Cracow
>> http://www.theothereuropeans.eu/