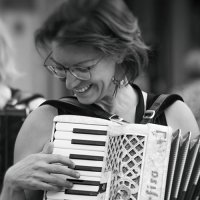 Szilvia Csaranko (D/H; accordion, piano)
Szilvia works as an accordionist, pianist and arranger with numerous ensembles and projects all over Europe. She is co-founder and musical director of the Klezmerorchester Erfurt - an 80-piece klezmer orchestra of amateur and professional musicians from all over Germany, Austria and Switzerland.
 
Since 2018 Szilvia has been working with the London-based clarinetist, Susi Evans. In 2020 they released their first record - Klezmer From The New World; a collection of tunes from the repertoire of Dave Tarras. In the same year they published The Klezmer Playbook; 50 traditional klezmer tunes with playalongs, which has already been sold in 17 countries worldwide. During the latest lockdown, Susi and Szilvia launched the KlezmerPlaybook CLUB, where they have up to 100 participants attending their online workshops and playalong sessions.
 
Szilvia teaches accordion and klezmer workshops at various festivals including Klezfest London, KlezKanada and Yiddish New York (online). She has been connected with Yiddish Summer Weimar since 2008, as a student, a volunteer and now as a teacher and performer.
www.szilviacsaranko.de
www.shades-of-folk.com
https://youtu.be/5PvjlbmfLIo
https://youtu.be/NH2YE0WGeNo
https://youtu.be/J7Vf6kZ_6A4
Photo: Shendl Copitman