The Palace of Sweet Waters, Day Two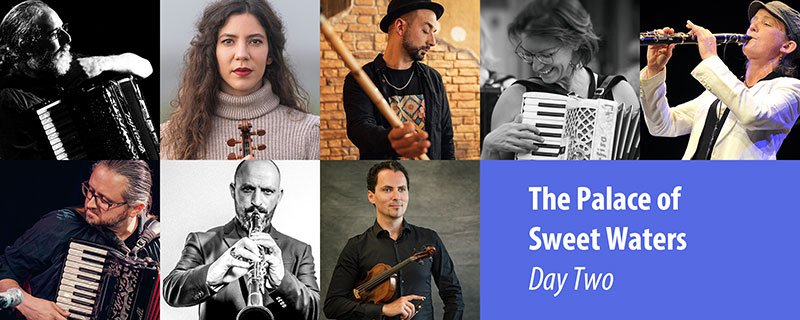 Sat, Aug 5 '23 08:00 PM
Musikschule "Johann Nepomuk Hummel"
The all-star faculty of the Intermediate/Advanced Instrumental Workshop Session Two in concert
The Palace of Sweet Waters was a famous,19th century Ottoman palace where Yiddish, Greek, Turkish and other musicians gathered to play in public for the pleasure of all who were fortunate enough to listen. Tonight, we can imagine what it was like there, thanks to the masterful Yiddish and Greco-Turkish musicians leading this week's Intermediate/Advanced Instrumental Workshop. With Weimar's own Sweet Waters (the Ilm) flowing nearby, we can luxuriate in the sensuous beauty of centuries-old music performed by contemporary masters.

Line-up:
Alan Bern (US/D) - piano, accordion
Szilvia Csaranko (D)- accordion, piano
Susi Evans (GB/D) - clarinet
Danai Loukidi (GR) - violin
Tayfun Guttstadt (D/TR) - ney, guitar
Mark Kovnatskiy (D) - violin
Harel Shachal (IL) - clarinet
Ilya Shneyveys - accordion, piano
Location: Musikschule "Johann Nepomuk Hummel", Karl-Liebknecht-Str. 1, 99423 Weimar
Contact: , +49(0)15776463340
No registration possible
This event is over.